Choti Sardarni: Manav and Meher's past love confession heartbroken Sarabjit (Upcoming Story)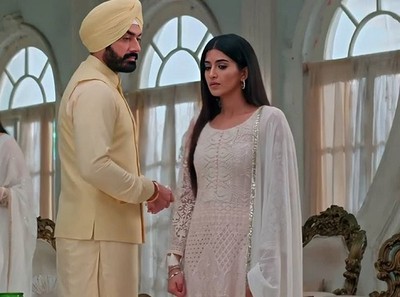 Choti Sardarni: Manav and Meher's past love confession heartbroken Sarabjit
The upcoming story of Choti Sardarni is going to see Sarabjit and Meher's life getting more challenging.
Sarabjit and Meher's life faces a troubled time when Vikram Diwan enters in their life with a motive.
Although Vikram is Aditi's boyfriend, Vikram is none other than Manav who is back with some intentions in Meher's life.
Meher faces a hard time when Manav confesses about his first love whom he still loves passionately.
Sarabjit praises Vikram being unaware of Vikram aka Manav's first love is his wife Meher.
What will happen next in Choti Sardarni is quite hard to gulp because Sarabjit will finally get to know Meher's past love life with his friend Manav.
Meher to break Sarabjit's heart
How Sarabjit will deal with Meher is quite worth to watch but will Meher be able to win Sarabjit's trust back after the true revelation?
Stay up to date with Serialgossip.com for popular top TV shows and Hindi serial.
Latest Choti Sardarni Updates