Barrister Babu: Rasila makes Anirudh realise his true love for Bondita not Saudamini (Upcoming Story)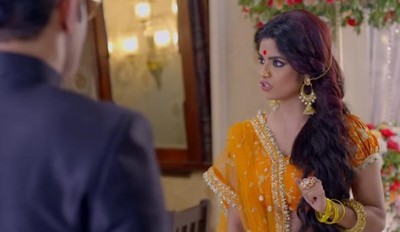 Barrister Babu: Rasila (Sayantani Ghosh) makes Anirudh (Pravisht Mishra) realise his true love for Bondita not Saudamini
The upcoming episode of Colors popular serial Barrister Babu will showcase interesting twist.
It was earlier seen that Saudamini manipulates Aniruddh and makes his hell bent for marriage with her.
Saudamini claims about one night stand and hence Anirudh had to agree for marriage.
Anirudh and Saudamini's engagement rituals begin where Rasila marks her stunning entry.
Rasila recreates Bondita's words before Anirudh making him recall his Bondita.
Sampoorna reveals entire truth to Anirudh
Rasila also unfolds about Bondita facing trouble in her village due to Anirudh.
Furthermore Sampoorna also informs Anirudh about Bondita's lie just to save her marriage.
Anirudh realises his mistake and heads to meet Bondita to bring her back and leaves Saudamini behind.
It would be really interesting to see what Saudamini does this timeto get her Anirudh back once again.
Stay tuend and keep reading serialgossip.com for more updates on Barrister Babu.
Latest Barrister Babu Updates