Shaadi Mubarak: Rati Chanda's first victory over KT Preeti (Upcoming Story)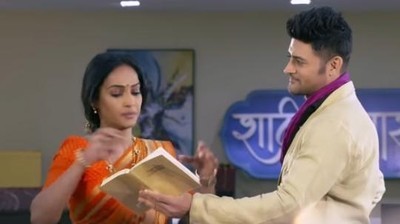 Shaadi Mubarak: Rati Chanda's first victory over KT (Manav Ghoil) Preeti (Rajashree Thakur)
The upcoming episode of Star Plus serial Shaadi Mubarak will showcase interesting drama.
Rati and Tarun's plan works out well where foolish Priyanka gets believing Tatun.
Priyanka gets trapped in Tarun's fake love where she gets cheating Preeti.
Priyanka steals Preeti's presentation and handover the same to Tarun while Tarun handover the same to Rati.
Rati gets overconfident and presents the same to Chanda and their client Nathmal.
Nathmal humiliates KT and Preeti
Nathmal humiliates KT and Preeti ousts them while Rati impresses Nathmal and wins the big project for Chanda.
KT and Preeti fails to understand the deceive and decides to find the culprit.
Will Preeti come to know that Priyanka is the real culprit?
Let's wait and watch.
Latest Shaadi Mubarak Updates