Kumkum Bhagya: Abhi-Pragya real secrets make Rhea go against Aaliya (Upcoming Twist)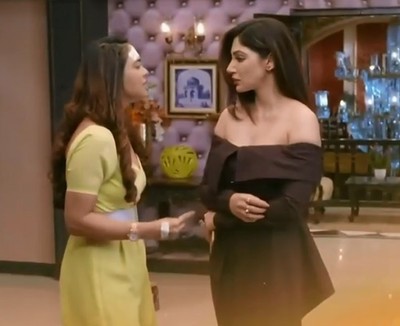 Rhea (Pooja Banerjee) and Aaliya (Reyhna Malhotra) major confrontation in Kumkum Bhagya
The popular TV serial Kumkum Bhagya is looking forward for a new storm in the lives of Abhi and Pragya.
Abhi and Pragya are going to finally unite with their daughters Prachi and Rhea.
However, Aaliya has set her evil eyes on their family because she is not ready to let Pragya return in Abhi's life.
Rhea who has learned Pragya being her mother and Prachi being her sister is excited to reveal the truth.
Aaliya is stumbled knowing Rhea planning to meet her real mom Pragya and Prachi.
What more, the time has finally arrived when Rhea will stand against Aaliya to unite with her mom and elder sister.
Aaliya to lose her dirty games
Aaliya who always tried her hell like efforts to manipulate hate in Rhea's mind for Pragya and Prachi will now be facing a drastic defeat.
Rhea will be able to meet up with her mom and sister after the secret revelations of Abhi and Pragya or not is worth to watch next in Kumkum Bhagya.
Latest Kumkum Bhagya Updates