Choti Sardarni: Manav misunderstand Sarabjit Meher's forced marriage (Upcoming Story)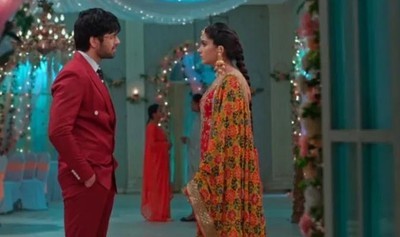 Choti Sardarni: Manav misunderstand Sarabjit Meher's forced marriage
The upcoming episode of Colors TV serial Choti Sardarni will showcase interesting twist and turn.
It was earlier seen that Manav makes a plan to send Sarabjit back home to Param.
While Manav assumes that Sarabjit is gone back and Meher is all alone.
Furthermore Manav stands under the misuanderstadning that Meher and Sarabjit does not love each other.
At the same time he also believes that Meher is forced to marry Sarabjit and he has to free her from the marriage.
Manav to confess love for Meher unaware of rejection
Hence Manav decides to meet Meher and confess love to her with a hope that she reunites back with him.
Manav's dream is going to get crushed as Meher now loves Sarabjit and moved on in life making him as her life.
It would be really interesting to see what happens next on the show.
Stay tuned and keep reading serialgossip.com for more updates on Choti Sardarni.
Latest Choti Sardarni Updates