KumKum Bhagya: Post major confrontation Ranbir disown Rhea and propose love for Prachi (Future Story)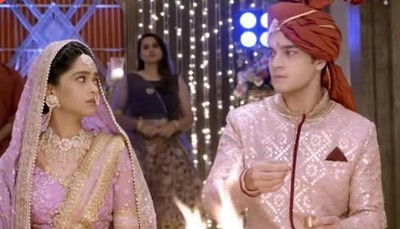 KumKum Bhagya: Post major confrontation Ranbir disown Rhea and propose love for Prachi
ZEE TV longest running serial KumKum Bhagya will showcase shocking twist in the upcoming episode.
Rhea's crime is exposed to one and all where Rhea feels extremely guilty for trying to kill her own sister.
Furthermore Ranbir comes to know about Rhea being the murderer and hence he confronts her.
Ranbir gets mad to see criminal Rhea who confronts her badly.
Adding more drama to the same Ranbir breaks Rhea's heart and disowns her.
Ranbir is no more interested in Rhea and also breaks friendship ties with her.
Ranbir breaks all ties with Rhea and accepts Prachi for lifetime
On the other side Ranbir gets back to Prachi and confesses love for her.
Ranbir once again propose love for Prachi and waits for her reply.
It would be really interesting to see what happens next on the show.
Stay tuned and keep reading serialgossip.com
Latest Kumkum Bhagya Updates