Shaadi Mubarak: Preeti's big fat lie exposed to KT badly misunderstands Preeti (Upcoming Twist)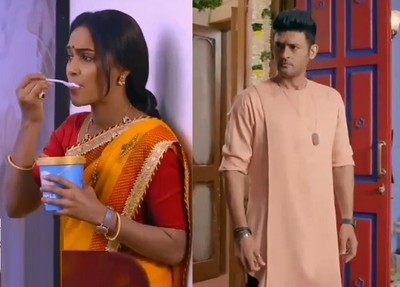 Shaadi Mubarak: Preeti's big fat lie exposed to KT badly misunderstands Preeti
Popular show 'Shaadi Mubarak' is going to see the shocking replacement of actress Rajashree Thakur.
Actress Rati Pandey is replacing Rajashree Thakur in the lead role of Preeti.
KT and Preeti get their new wedding planning project of Mrs Goplani but the evil woman humiliates Preeti over her dark skin complexion.
Now when Preeti feels disgusted and recalls the warning of Goplani to not attend the function or she will cancel the project,
Preeti takes extreme of eating too much ice-cream and then lies to KT about her lost voice.
KT trusts Preeti but the twist in the story comes when KT reaches Kusum's house and hears Preeti talking.
KT and Preeti's big fight
KT gets angry for Preeti lied to him and now the situation will badly deteriorate.
Preeti cannot expose the truth or Goplani will snatch their project and thus she again lies to KT.
Let's see if Preeti's such lie will worse the situation as KT feels betrayed.
Stay tuned with us for more updates.
Latest Shaadi Mubarak Updates