Shaadi Mubarak: KT to make Preeti best Businesswoman new journey begins (Latest News)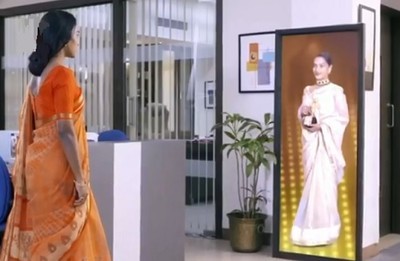 Shaadi Mubarak: KT to make Preeti best Businesswoman new journey begins
Hindi TV serial 'Shaadi Mubarak' is up for a new journey of Preeti and KT's Shaadi Mubarak.
Preeti feels dejected and insecure believing she will never be able to work in this age.
KT bringing some positive vibes takes Preeti's autograph on a diary and brings her to the mirror.
KT compels Preeti to see herself in the mirror while he elevates her self-confidence making her believe that she can do anything if she believes in herself.
Preeti starts imagining getting the Best Businesswoman award while she is dressed in classy avatar.
KT once again boosts Preeti's confidence that Preeti agrees with new enthusiasm to chase her victory.
KT and Preeti turn best companions
Shaadi Mubarak new promo is all looking forward to bring Preeti's new journey where KT believes in her that one day she will become the best businesswoman.
Let's see how KT and Preeti's Shaadi Mubarak journey will begin ahead.
Keep reading entertainment news website Serialgossip.com for more quick updates on top TV shows and popular Hindi serials.
Latest Shaadi Mubarak Updates