Shaadi Mubarak: Tarun propose Priyanka for marriage and divorce Rati (Upcoming Episode)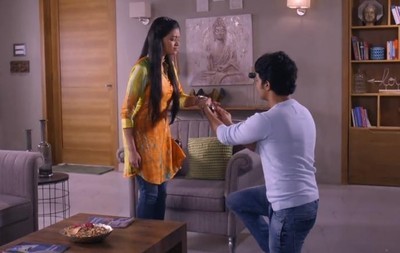 Shaadi Mubarak: Tarun (Gaurav Sharma) propose Priyanka for marriage and divorce Rati (Akansha Sareen)
Star Plus serial Shaadi Mubarak will showcase interesting twist and turn.
It was earlier seen that Tarun traps Priyanka in his master plan to flop Preeti's business.
However Priyanka gets fooled where she lands in Tarun's house to stop her betrayal drama with Preeti.
Tarun has to keep Priyanka trapped where he gets down on his knees and propose love for Priyanka.
Tarun propose love and marriage for Priyanka leaving her in deep shock.
Priyanka reluctantly rejects Tarun's marriage proposal
Furthermore to convince Priyanka, Tarun also fools her that he is all set to divorce Rati.
Priyanka is badly trapped where she reluctantly rejects Tarun's marriage proposal.
It would be really interesting to see how Tarun manipulates Priyanka for marriage.
Stay tuned and keep reading serialgossip.com for more updates.
Latest Shaadi Mubarak Updates