Shaadi Mubarak: Preeti takes KT for a roadside date to celebrate first failure (Upcoming Story)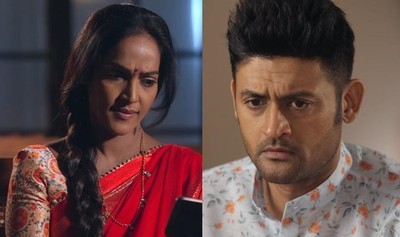 Shaadi Mubarak: Preeti (Rajashree Thakur) takes KT (Manav Gohil) for a roadside date to celebrate first failure
The upcoming episode of Star Plus serial Shaadi Mubarak will showcase interesting twist and turn.
It was earlier seen that KT and Preeti wins the Nathmal project.
However Preeti's this victory does not get digested by Rati who asks Tarun to trap Priyanka in his love game.
Being foolish in love Priyanka cheats Preeti and handover her ideas to Rati.
Rati and Chanda manages to snatch Nathmal's project from KT and Preeti.
Preeti manages to convince KT
KT bursts out in anger as he cannot accept cheat in his life.
Hence to cool down KT, Preeti takes KT to a roadside date to eat famous Masala Dosa and shows him how the first dosa never turns out well.
KT understands Preeti's point and the duo waits for the next opportunity to prosper.
Keep reading serialgossip.com for latest development on Star Plus serial Shaadi Mubarak.
Latest Shaadi Mubarak Updates