Shaadi Mubarak: Priyanka ugly secrets to end KT and Preeti's Shaadi Mubarak (Upcoming Twist)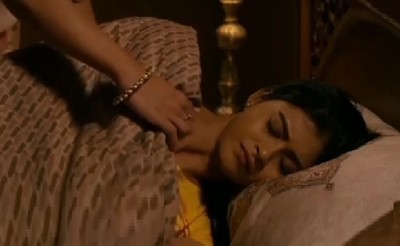 Shaadi Mubarak: Priyanka ugly secrets to end KT and Preeti's Shaadi Mubarak
Star Plus popular show Shaadi Mubarak is looking forward to a very heartbreaking track as Preeti will finally get to know the ugly secrets of Priyanka.
KT and Preeti prepare a very unique and awesome wedding planning for their client but Chanda cheats them.
Chanda shows its presentation to the client and takes all the credit.
KT and Preeti who are now empty-handed before the client are stumbled wondering how Chanda got their presentation while Preeti had the responsibility of keeping the presentation safe.
KT doesn't doubt on Preeti while Preeti who finds a fake nail in the laptop gets in action to find the person who played a dirty game with her.
Juhi catches Priyanka's hand in stealing the presentation where the time has expectedly come when Preeti will find Priyanka's truth and how she helped Rati and Tarun.
Preeti in big trouble again
Preeti is in trouble again knowing someone from her family had executed the plan.
This is getting terrified as Priyanka's evil move is going to put an end on KT and Preeti's Shaadi Mubarak.
Let's see if Preeti could manage the situation and get the client back from Chanda.
Latest Shaadi Mubarak Updates