Pinjara Khubsurti Ka: Piyush Mayura's intimate dance puts Omkar on fire (Upcoming Twist)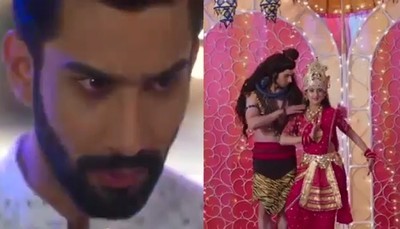 Pinjara Khubsurti Ka: Piyush Mayura's intimate dance puts Omkar on fire
Star Plus serial 'Pinjara Khubsurti Ka' is up for high voltage drama in the storyline.
Omkar and Mayura are celebrating the auspicious eve of Navratri when major trouble knocks in.
The dancers fail to arrive in the celebration that Mayura thinks of an idea.
Mayura decides to give a dance performance with Piyush and there Piyush and Mayura don the look of Lord Shiva and Parvati.
Piyush and Mayura's dance interestingly gets sizzling and more intimate which shockingly pisses off Omkar.
Omkar is now mad at Mayura for crossing the limits while he fails to digest their intense proximity during the dance.
What will happen next in Pinjara Khubsurti Ka is pretty interesting as Omkar will take an extreme step to keep Piyush and Mayura apart.
Omkar and Mayura's love in danger
Omkar and Mayura's lovely relationship is going to face a terrible time after the misunderstandings took shelter in Omkar's mind.
Let's see how Mayura will save her marriage and how she will face Omkar's rage.
Stay updated with entertainment news website serialgossip.com for top TV serials latest news and buzz.
Latest Pinjara Khubsurti Ka Updates