Barrister Babu: Furious Anirudh swears to make Saudamini pay for Bondita's pain (Upcoming Twist)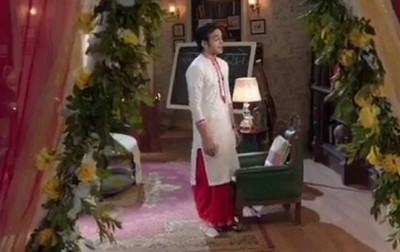 Barrister Babu: Furious Anirudh (Pravisht Mishra) swears to make Saudamini pay for Bondita's (Aura Bhatnagar Badoni) pain
Colors serial Barrister Babu is going to see Anirudh's burst of anger on Saudamini.
Bondita exposes Saudamini and her fake blindness.
Anirudh even gives a chance to Saudamini to accept her truth and confess her apology but Saudamini still fools Anirudh.
The situation now takes an ugly toll when Anirudh himself sees the evil side of Saudamini.
Anirudh is dejected at Saudamini's truth that she isn't blind but only faking her illness to get him.
Anirudh is so furious that he swears to make Saudamini pay for her sins and the pain that she gave to Bondita.
Anirudh to end Saudamini's game
Anirudh has learned about Saudamini's dirty game.
Anirudh is not ready to let Saudamini trouble Bondita any more.
Let's see how Anirudh will teach a good lesson to Saudamini and close her chapter in Barrister Babu
Latest Barrister Babu Updates