Kundali Bhagya: Preeta's daring step expose Mahira before Karan Rishabh Kareena (Upcoming Twist)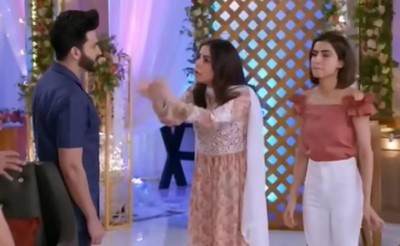 Kundali Bhagya: Preeta's (Shraddha Arya) daring step expose Mahira (Swati Kapoor) before Karan (Dheeraj Dhooper) Rishabh (Manit Joura) Kareena
ZEE TV serial Kundali Bhagya will showcase interesting twist and turn.
It was earlier seen that Mahira marks her return to Luthra House.
Mahira had well planned her suicide to make Preeta out of the house so that she can get her place back in Karan's heart.
Mahira makes Preeta get her luggage inside house and starts feeling dizzy before Karan.
Preeta does not keep quiet and expose Mahira then and there itself.
Being a doctor Preeta expose Mahira stating that Mahira's suicide attempt was a fake one.
Preeta goes on opening up all the facts and medications which prove Mahira wrong.
Sherlyn Karan Rishabh Kareena shocked with Preeta's real accusation against Mahira
Sherlyn gets shocked where Karan Rishabh Kareena and everyone in the family are shocked with Preeta's real accusation towards Mahira.
Will Luthra's oust Mahira once again?
What will Mahira do next to keep herself secure in Luthra family?
Let's wait and watch.
Latest Kundali Bhagya Updates