Kundali Bhagya: Mahira's mean Karva Chauth challenge to Preeta, Karan-Preeta tensed (Upcoming Twist)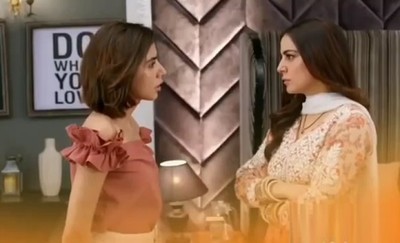 Kundali Bhagya: Mahira's mean Karva Chauth challenge to Preeta, Karan tensed
The upcoming twist of ZEE TV serial Kundali Bhagya is going to witness Karan and Preeta's first Karva Chauth.
Karan and Preeta both are excited for their Karva Chauth.
However, not everything is going to go as they planned for Karva Chauth.
Psycho Mahira is here to ruin their first Karva Chauth and poke her nose in their romantic night.
Mahira confronts Preeta and openly challenges to keep Karva Chauth fast for Karan.
This much announcement wasn't enough to piss off Preeta that Mahira challenges to drink water with Karan's hands and snatch the wife rights from her (Preeta).
Preeta and Karan to face new trouble
Evil Mahira is again trying her best to ruin the happy times of Karan and Preeta.
Mahira's mean wish to keep Karav Chauth fast got Karan and Preeta both tensed.
It would be interesting to watch if Preeta could backfire Mahira's such nasty wish or she will lose this time in Kundali Bhagya.
Latest Kundali Bhagya Updates