Kundali Bhagya: Karan cheats Preeta fufil Mahira's Karvachauth (Upcoming Twist)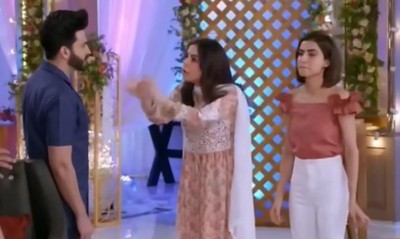 Kundali Bhagya: Karan (Dheeraj Dhooper) cheats Preeta (Shraddha Arya) fulfil Mahira's Karvachauth
The upcoming episode of ZEE TV serial Kundali Bhagya will showcase interesting twist and turn.
It was earlier seen that Mahira has entered in Luthra house and is very happy with her stay.
Mahira has won Karan's confidence and Karan is taking extra care of Mahira as good friend.
While Mahira wants to settle her scores with Preeta and snatch Karan forever.
Preeta tries to make Karan away from Mahira now and then but in vain.
Now Mahira takes a step forward where she has Karvachauth challenge with Preeta.
Preeta fails in Mahira's challenge
Preeta accepts Mahira's challenge where she is sure that Karan will break her fast first.
Mahira is all set with her master plan where she acts dizzy.
As Mahira falls down Karan makes her drink water and break her karvachauth fast making Preeta jealous and face failure.
Keep tuned for the upcoming twist in Kundali Bhagya.
Latest Kundali Bhagya Updates