Shaadi Mubarak Latest News: New entry of KT's wife to poison KT-Preeti's ideal love (Latest News)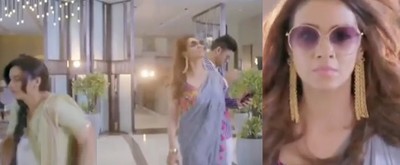 Shaadi Mubarak New Promo: Villainous entry to bring storm in KT (Manav Gohil) and Preeti's (Rati Pandey) love life
Star Plus serial Shaadi Mubarak will now see the new entry of KT's wife.
KT and Preeti get caught by the family in a compromised state.
Rati's dirty planning and plotting make the family believe KT and Preeti's favour.
Eventually, Bua Saa puts forth her suggestion to get KT and Preeti married.
What will happen next in Shaadi Mubarak is quite intriguing.
KT and Preeti to face new troubles
Suddenly out of the blue, KT's wife who left him after 2 years of their marriage is back in KT's life.
KT and Preeti are walking together when the woman comes in between them and pushes away Preeti.
KT senses his wife but stands still while Preeti stumbles.
It would be interesting to watch how the return of KT's wife will poison KT and Preeti's ideal relationship.
Stay tuned for further updates.
Latest Shaadi Mubarak Updates