Choti Sardarni: Manav blackmail Sarabjit to giveaway Karan or else he will divorce Aditi (Upcoming Twist)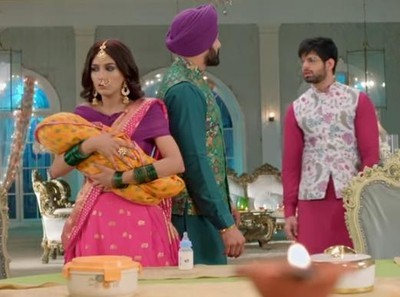 Choti Sardarni: Manav (Hitesh Bhardwaj) blackmail Sarabjit (Avinesh Rekhi) to giveaway Karan or else he will divorce Aditi
The upcoming episode of Colors popular serial Choti Sardarni will showcase interesting twist and turn.
It was earlier seen that Manav wants his Karan back from Meher.
Karan makes Meher understand about his need for Karan.
Meher informs Sarabjit about the same and is tensed.
While Sarabjit promises to always support Meher and keep their kids Param Karan with them only.
Now it is Diwali time when Manav stops Meher and demands his Karan back.
Sarabjit makes Manav away from Meher
Manav holds Meher's hand when Sarabjit stops Manav and asks him to leave Meher and Karan.
Manav hence blackmails Sarabjit to giveaway his Karan or else he will divorce Aditi.
Sarabjit gets tensed and is shocked as he does not want to see his Guddi aka Aditi in pain.
Keep reading serialgossip.com
Latest Choti Sardarni Updates