Yeh Hai Chahatein: Prisha ready to unfold Mahima's real identity to Saransh with Rudraksh's support (Upcoming Story)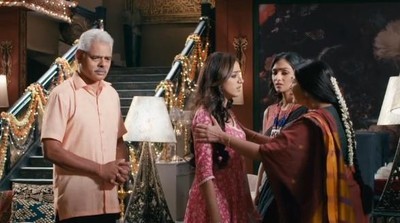 Yeh Hai Chahatein: Prisha (Sargun Kaur Luthra) ready to unfold Mahima's real identity to Saransh with Rudraksh's (Abrar Qazi) support
The upcoming episode of Star Plus serial Yeh Hai Chahatein will showcase an interesting twist.
It is seen that Mahima that has returned to Prisha's life only to take Saransh along.
Mahima's motive is good where she wants Prisha to get free from Saransh's burden.
While Prisha is tensed as in she is confused how to reveal the truth to Saransh.
Vasudha and Mahima have faith on Prisha and asks her to reveal the truth as she is the only one who can reveal this big truth to Saransh.
Rudraksh stand with Prisha
Rudraksh also supports Prisha and gets ready.
Saransh overhears a part of their conversation and questions them.
It would be interesting to see what happens next on the show.
Stay tuned to serialgossip.com
Latest Yeh Hai Chahatein Updates