Yeh Rishta Kya Kehlata Hai: Vansh turns handicap post jumping off terrace Kairav guilty (Upcoming Twist)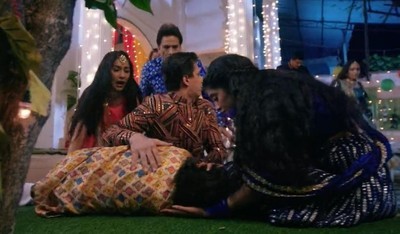 Yeh Rishta Kya Kehlata Hai: Vansh turns handicap post jumping off terrace Kairav guilty
The upcoming episode of Star Plus longest running serial Yeh Rishta Kya Kehlata Hai will showcase interesting drama.
It was earlier seen that Vansh falls under the wrong influence and wants to become cool dude.
Further Vansh drags Kairav too in the wrong path.
Kairav tries to make Vansh aware of the same but in vain.
Furthermore, to prove himself cool Vansh jumps off the terrace assuming that he will fall on the bed.
Naira holds Kairav guilty of Vansh's situation
Vansh lies unconscious where Kartik and entire family rushes him to the hospital.
On the treatment Vansh looks fine to the doctor but when he gains conscious he is unable to move his leg and walk.
This situation leaves Gayu tensed where Naira informs Kartik that this happened due to Kairav.
What happens next on the show is a must wait and watch.
Latest Yeh Rishta Kya Kehlata Hai Updates