Ghum Hai Kisi Ke Pyaar Mein New Promo: Sayi challenges Virat to send Virat jail in Kamal's death case (Latest News)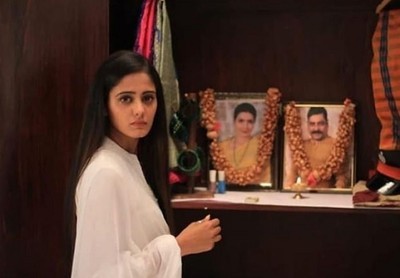 Ghum Hai Kisi Ke Pyaar Mein (GHKKPM) New Promo: Sayi challenges Virat to send Virat jail in Kamal's death case
Star Plus Hindi serial Ghum Hai Kisi Ke Pyaar Mein new promo is released where Sayi has her major breakdown.
Sayi breaks down in tears and blames Virat for her Aaba's death.
Not only Sayi blames Virat but she also curses him.
Sayi and Virat's major confrontation gets terrible when Sayi swears to send Virat jail in Kamal's death case.
Sayi's such challenge shocks Virat while Virat is himself fighting with a tough time.
Virat and Sayi major showdown
Virat and Sayi are already facing shocking circumstances in their life.
Now, what will happen next in Ghum Hai Kisi Ke Pyaar Mein in Virat and Sayi's life?
Stay tuned with us for more updates and latest news.
Latest Ghum Hai Kisi Ke Pyaar Mein Updates