YRKKH: Gayu's overprotective motherhood brings hate amid Naira Kairav (Upcoming Twist)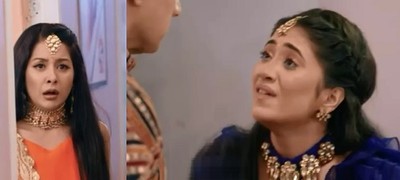 Kairav (Aarambh Trehan Sehgal) and Naira (Shivangi Joshi) relation to face a terrible time in Yeh Rishta Kya Kehlata Hai (YRKKH)
Star Plus TV serial Yeh Rishta Kya Kehlata Hai will see ahead a very high time in the storyline.
Vansh meets with tragedy when he jumps from the terrace to record a cool dude video.
When Naira sees Kairv on the terrace, she doubts Kairav's hand in Vansh's accident.
Gayu overhears Naira when Naira explains the whole situation to Kartik.
Gayu believes Kairav is responsible for her son Vansh's accident which now resulted in his physical disability.
Impulsive Gayu will now burst on Naira and Kairav alongsdie Kartik and Goenka family.
Though Naira herself doubts Kairav without knowing the truth,
This drastic fight will have a bad impact on Naira and Kairav's relation.
Kairav's love for mommy Naira to turn in hate
Kairav's love for Naira will drastically turn into hate because he feels Naira doesn't trust in him.
How Kartik and Naira will face new challenges in their parenting is worth to watch next in the show.
Latest Yeh Rishta Kya Kehlata Hai Updates