Pinjara Khubsurti Ka: Not Ash but blasting entry of Mayura as mystery bride to marry Omkar (Upcoming Episode)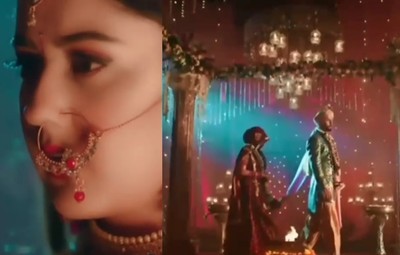 Pinjara Khubsurti Ka: Not Ash but blasting entry of Mayura as mystery bride to marry Omkar
Colors popular show Pinjara Khubsurti Ka is up for Omkar and Mayura's dhamakedar wedding.
Mayura determines to marry Omkar and make his life equal to hell.
Omkar is marrying Ash to defeat Mayura and close her chapter from his life.
Omkar ties Mayura and begins his wedding rituals with Ash.
The real game will begin now when Mayura manages to escape and smartly fooling Omkar, she swaps Ash in the wedding mandap.
Mayura traps Omkar in her cage
Omkar is happy believing he is marrying Ash and now Mayura will never be able to defeat him.
However, soon Mayura unveils her face and shocks Omkar to the hell.
The blasting entry of Mayura as a mystery bride will shake Omkar's world who thought he is marrying Ash.
Omkar feels dejected while Mayura celebrates her victory on Omkar.
Let's see what major twists and turns are coming up next in Pinjara Khubsurti Ka TV serial.
Latest Pinjara Khubsurti Ka Updates