Kundali Bhagya: Karan begs for apology confessing love for Preeta (Upcoming Episode)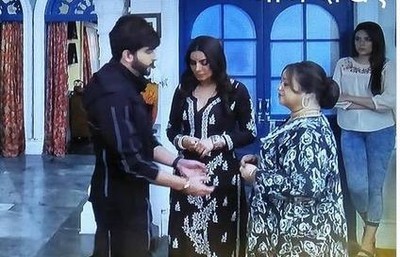 Kundali Bhagya: Karan begs for apology confessing love for Preeta
The upcoming episode of ZEE TV serial Kundali Bhagya will showcase interesting twist and turn.
It was earlier seen that Karan goes to meet Preeta on Valentines Day so that she confess love for him.
Karan wants to hear the confession from Preeta while on the other side Mahira is waiting for Karan in Preeta's absence.
Now Karan and Preeta unfortunately gets caught by Sarla and other members of the society assuming that he is thief.
Preeta knew Karan was home but hid the same from Sarla.
Sarla asks Karan to leave her house right away
Now Sarla gets much angry on Karan and asks him to leave her house right away.
Karan confesses his love for Preeta and begs for apology before Sarla.
It would be interesting to see what happens next on the show.
Stay tuned and keep reading serialgossip.com for more updates.
Latest Kundali Bhagya Updates