Kundali Bhagya: Prithvi returns Preeta's love confession for Karan goes wrong (Upcoming Twist)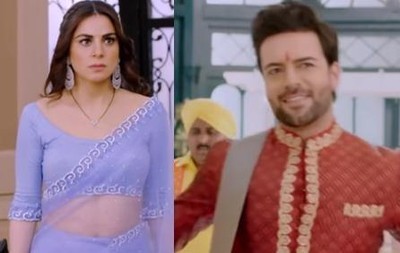 Kundali Bhagya: Prithvi returns Preeta's love confession for Karan goes wrong
The upcoming episode of ZEE TV popular serial Kundali Bhagya will showcase interesting twist and turn.
As per the latest promo Preeta is seen much happy in her bed room dressed up in saree.
Preeta in her phone call addressing Karan feels blessed to get Karan in her life as her husband.
Preeta confesses I Love You when on the other side Prithvi says I Love You too leaving Preeta shocked.
Yes Prithvi is all set to mark his return on show to once again spice up Karan Preeta's life.
Prithvi enters in Luthra House with Dhol and Nagada turning Karan furious.
Karan and Prithvi's confrontation worries Preeta
Karan gets much angry when he raises his hand on Prithvi where Prithvi fights back and stops Karan.
Preeta gets shocked to witness the unexpected confrontation amid Pritvhi and Karan.
Why has Prithvi returned to Preeta?
Stay tuned and keep reading serialgossip.com for more updates.
Latest Kundali Bhagya Updates