GHKKPM: Virat emotionally breakdown fail to stop Sayi's exit (Latest News)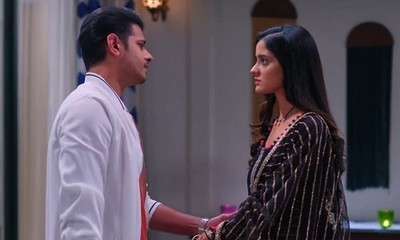 Ghum Hai Kisi Ke Pyaar Mein (GHKKPM): Virat emotionally breakdown with Sayi's exit
Star Plus top TV serial Ghum Hai Kisi Ke Pyaar Mein's latest story will be seeing Virat's emotional breakdown realizing his mistakes.
Virat crosses the line the moment he manhandles Sayi and punishes her to stay starved.
Virat insults Sayi's sentiments like never before and this leads to Sayi's drastic decision.
Sayi is fed up with the taunts and the insults she has been suffering in the Chavan house.
Sayi thus decides to leaves the Chavan house.
Virat is shaken to the core when Sayi compels Usha to pack her bags and they will be leaving the house.
Will Virat's heartfelt apology heal Sayi's sufferings?
Consequently, Virat breaks down when he hears such a shocking decision of Sayi.
Ashwini makes Virat realize his mistakes when Virat decides to mend his broken chords of love with his Sayi.
Not everything is lovey-dovey between Virat and Sayi, but will Virat's heartfelt apology and his tears stop Sayi from leaving the house?
Check out every new update at SERIALGOSSIP.COM
Latest Ghum Hai Kisi Ke Pyaar Mein Updates