GHKKPM: Gear up for Virat and Sayi's shower romance (Latest News)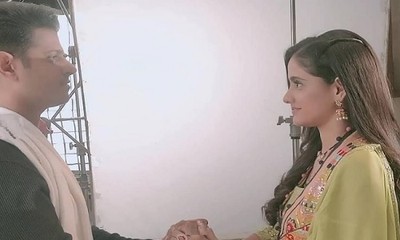 Ghum Hai Kisi Ke Pyaar Mein (GHKKPM): Gear up for Virat and Sayi's shower romance
In the beautiful love story of Ghum Hai Kisi Ke Pyaar Mein, Virat and Sayi's love finds a new way to kindle.
Virat and Sayi have their most emotional breakdown when they patch up after the fight.
Virat orders all Sayi's favorite food when they both have a lovely dinner.
The next morning is quite romantic because it's a new start for both Virat and Sayi.
Virat and Sayi's hand in hand romance
Virat rushes to shower when Sayi stops him on his way to the bathroom.
The moment gets intensely mesmerizing when Virat holds Sirat's and they both share a romantic gaze of love.
Virat and Sayi's love slowly and steadily gets sizzling when mistakenly they get in the shower.
The Mahashivratri is on the head and Virat Sayi are ready to perform the grand pooja.
Stay tuned with SERIALGOSSIP.COM to know what big blaster is coming up next in the Chavan mansion.
Latest Ghum Hai Kisi Ke Pyaar Mein Updates