Mehndi Hai Rachne Wali: Raghav falls in love at sight to see Pallavi (Upcoming Episode)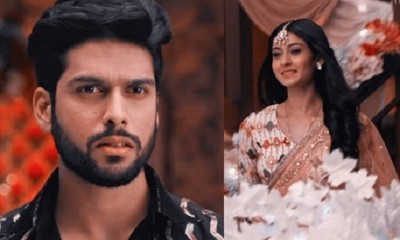 Mehndi Hai Rachne Wali: Raghav falls in love at sight seeing Pallavi
The intriguing love story of Raghav and Pallavi is witnessing ups and downs in their life in Mehndi Hai Rachne Wali TV serial.
Raghav attends the Sangeet function of Mansi when Raghav gets a big surprise with Pallavi's entry.
Pallavi's sangeet look mesmerizes Raghav to such core that Raghav falls in love at first sight to see Pallavi.
The rude and dominant Raghav praises Pallavi's beauty while he goes lost in her.
However, Raghav and Pallavi both are unaware of what new storm is coming up next in their life.
Misunderstandings in Raghav and Pallavi's life
Soon some misunderstandings are going to develop amid Raghav and Pallavi.
It would be highly intensified to watch how Raghav and Pallavi's life will change when the revenge will find its way before love.
Stay tuned with us for the next new update and the latest news.
Latest Mehndi Hai Rachne Wali Updates