GHKKPM: Drastic fight amid Virat Sayi to stop wedding (Upcoming Episode)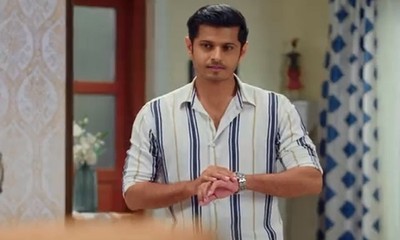 Ghum Hai Kisi Ke Pyaar Mein (GHKKPM): Drastic fight amid Virat and Sayi to stop wedding
The upcoming episode in Ghum Hai Kisi Ke Pyaar Mein will see a drastic fight between Virat and Sayi soon.
Virat has fallen in love with Sayi but the circumstances have made them against each other.
Virat faces a terrible situation when he finds that Sayi took Devyani to Pulkit.
While Pulkit and Devyani are getting married, here Virat bursts in anger when Bhavani fuels Virat's mind against Sayi.
So, Pakhi also gets a good opportunity to turn Virat against Sayi.
The deteriorating circumstances lead to Virat and Sayi's drastic fight ahead in Pulkit and Devyani's wedding mandap.
Virat and Sayi to part ways
Whatsmore, Virat and Sayi are finally going to part ways from each other on a bitter note.
Virat soon reaches Pulkit and Devyani's wedding venue when Sayi stops Virat's way.
What will happen next in the show, make sure you check out Serialgossip.com for more updates.
Latest Ghum Hai Kisi Ke Pyaar Mein Updates