Shaurya Aur Anokhi: Shagun to spoil Shaurya Anokhi's love Holi (Upcoming Twist)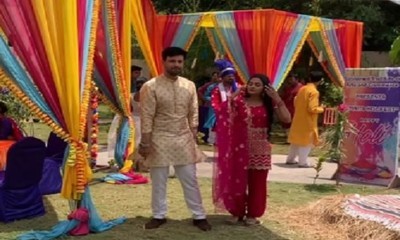 Shaurya Aur Anokhi Ki Kahani (SAAKK): Shagun to spoil Shaurya Anokhi's love Holi
In the upcoming twist of Shaurya Aur Anokhi Ki Kahani TV serial, Shaurya and Anokhi are going to celebrate their Holi of Love.
Shaurya is in love with Anokhi when Anokhi is also desperate to celebrate the Holi with Shaurya.
In the meanwhile, Devi came to know Shaurya's feelings for Anokhi.
Devi is determined to not let Shaurya and Anokhi come closer in love and thus she calls Shagun for her next plan.
Shaurya plans a love confession for Anokhi in the Holi fest when here Devi plots Shagun in the fest.
Shaurya and Anokhi's love in trouble
Anokhi especially gets ready for Shaurya in the Holi fest.
Shaurya and Anokhi's romance in the Holi fest will bring a charm to the story but Shagun's entry is surely going to spoil their love Holi.
Now it will be highly intensified to watch what will happen next in the show.
Stay tuned with Serialgossip.com for more updates and the latest news.
Latest Shaurya Aur Anokhi Ki Kahani Updates