Mehndi Hai Rachne Wali: Keerti turns Pallavi's DSE model to irk Raghav (Latest News)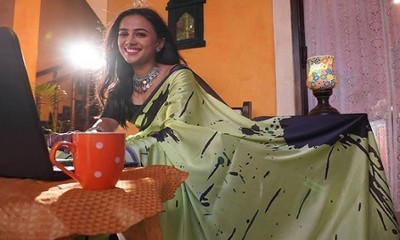 Mehndi Hai Rachne Wali (MHRW): Keerti turns Pallavi's model to irk Raghav
The upcoming latest story of Mehndi Hai Rachne Wali will see Pallavi's major step.
Interestingly, Pallavi hires Keerti as the new model for DSE.
Pallavi is trying her best to save her Deshmukh Saree Emporium wherein she wants a model and Keerti fits in the shoe.
When Pallavi and Keerti come together to work on the project but it seems Pallavi's major step costs her.
Raghav and Pallavi at odds
Apparently, Raghav and Pallavi get on the loggerheads because when Keerti and Amma get arrested, the blame comes on Pallavi.
Raghav and Pallavi's enmity is shaping up into a drastic scenario.
So, how Raghav will make Pallavi's life hell and how Pallavi will backfire him?
Make sure you check out Serialgossip.com for more updates.
Latest Mehndi Hai Rachne Wali Updates