Shaurya Aur Anokhi: Next In Shaurya takes Anokhi on romantic date (Upcoming Episode)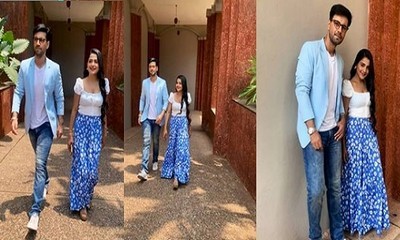 Shaurya Aur Anokhi Ki Kahani (SAAKK): Next In Shaurya takes Anokhi on date
A very beautiful sequence is coming up next in the upcoming episode of Shaurya Aur Anokhi Ki Kahani.
So far we have seen that how Shaurya shifts to Goa after facing Anokhi's hate and her rejection.
Anokhi realizes her misunderstanding and thus rushes to meet him.
Shaurya gets surprised to see Anokhi when Anokhi expresses her feelings and emotions to Shaurya.
However, Babli ruins their moment of love confession.
Interestingly, this is not the end because Shaurya is taking Anokhi on a very romantic date.
Shaurya surprises Anokhi
Earlier Shagun ruins Shaurya and Anokhi's romantic date but not anymore.
Shaurya is super excited to take Anokhi on their first date.
Serial Gossip is sharing the latest glimpse from Shaurya and Anokhi's romantic date in Goa, so make sure you check out the next big twist at Serial Gossip.
Latest Shaurya Aur Anokhi Ki Kahani Updates