Imlie: Aditya Imlie arrive to confess marital truth to Malini (Upcoming Episode)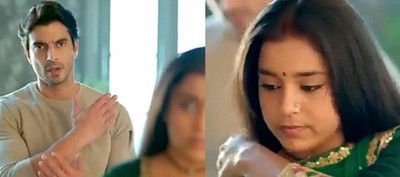 Imlie: Aditya and Imlie arrive to confess the marital truth to Malini
The popular TV series Imlie is witnessing ups and downs in Aditya and Imlie's life.
On one side, Malini is facing a heartbreaking situation because she has realized Aditya and Imlie's intimacy.
Malini slips into the trauma-like situation and starts to deck up as Aditya's bride.
Meanwhile, Aditya and Imlie decide to finally reveal their marital truth to Malini and end all their sorrows.
Aditya and Imlie face huge shocker
Aditya and Imlie are going to end all their dilemmas and conundrum but it seems destiny is not with them.
As soon as Aditya and Imlie arrive at Chaturvedi's house, they see Malini in the pool of blood after all Malini committed suicide.
So, how Aditya and Imlie will now confess their truth and will Malini accept their relationship, make sure to ready the new updates at SerialGossip.com
Latest Imlie Updates