Kyun Utthe Dil Chhod Aaye: Veer gives Amrit hands to Randhir makes promise (Future Story)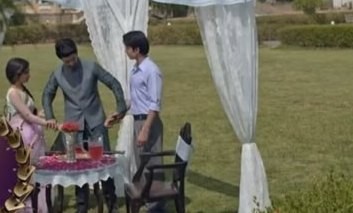 Kyun Utthe Dil Chhod Aaye: Veer gives Amrit hands in Randhir makes promise
Kyun Utthe Dil Chhod Aaye is Sony Entertainment Television's popular daily soap show bringing new twists and dramas in upcoming tracks.
It was seen that how Amrit and Randhir truth and relation gets exposed forth Veer where Veer gets much irked with all this.
Where further Randhir makes big move where he stands for Amrit against Veer when Veer tried to punish Amrit for betraying him.
Veer gives Amrit hands to Randhir, makes big promise
Shocking drama takes place where Veer handovers Amrit hand in Randhir hand and gives promise that after elections he will confess his truth forth Rani Maa.
Eyeing all this Randhir and Amrit gets shocked but still they having doubt for Veer intentions for uniting duo again.
It would be interesting to see what will happen next in show KUDCA.
Stay Tuned with us for more exciting updates and upcoming twists in the shows.
Latest Kyun Utthe Dil Chhod Aaye Updates