Mehndi Hai Rachne Wali: Pallavi makes Raghav sleep in her lap (Upcoming Episode)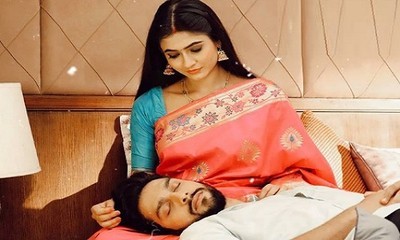 Mehndi Hai Rachne Wali: Pallavi makes Raghav sleep in her lap
The beautiful love story of Raghav and Pallavi in the Star Plus TV show Mehndi Hai Rachne Wali will see further Pallavi's sweet gesture towards Raghav.
Raghav is currently struggling hard to convince the Deshmukh family and mend their relations with Pallavi.
Pallavi agreed to give one month's time to Raghav but is sure that Raghav will never be able to unite her with her family.
However, things have started to fall in Raghav's favor.
Meanwhile, when Raghav returns home tired as he spends the night in his house after the day with Deshmukhs,
Pallavi turns caring wifey to Raghav.
Pallavi starts to develop feelings for Raghav
Raghav falls sleep in Pallavi's lap when Pallavi also take care of him.
While Raghav and Pallavi have started to develop feelings for each other, how Raghav will unite Pallavi with her family is what you shouldn't miss next in Mehndi Hai Rachne Wali.
Make sure you follow us at SerialGossip.com so you don't miss the next big twists.
Latest Mehndi Hai Rachne Wali Updates