Sasural Simar Ka 2: Choti Simar- Aarav intense romance caught by Simar (Upcoming Twist)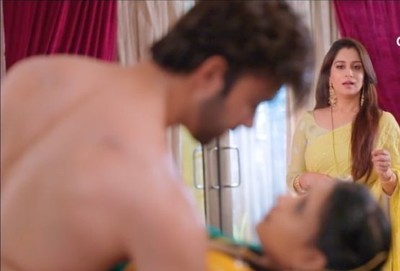 Sasural Simar Ka 2: Choti Simar and Aarav intense romance ahead, Simar turned eye- witness
Sasural Simar Ka 2 is Indian tv drama which telecasted on Star Plus, where its upcoming track of the show will bring much drama in Simar and Aarav life.
It was seen that how Reema and Choti Simar confessed Simar that its Vivaan who sent Divesh where later to convince Vivaan Simar reached Oswal house.
Where further, Simar meets with Vivaan where later Vivaan pushes Reema in pool and later Aarav also in pool.
Simar and Aarav bedroom romance ahead, new twist cops up
Further, Choti Simar entered in Aarav room to change her wet dress and gets shocked eyeing Aarav shirtless there.
Shockingly, Choti Simar slips into Aarav arms and Simar gets joyful eyeing together as couple but unable to do anything.
Will Aarav and Simar can get united or not?
Stay tuned with us for more exciting updates and upcoming twists in the show.
Latest Sasural Simar Ka 2 Updates