Barrister Babu: Thaku Maa amidst fire trap gives red signal to old customs (Future Story)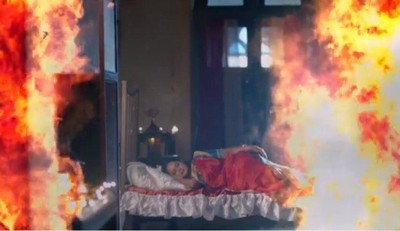 Barrister Babu: Thaku Maa trapped amidst fire, Bondita turned life savior
Barrister Babu is Indian tv drama which telecasted on Colors Tv, where its upcoming track of the show will bring much drama.
Latest tracks deal with Baba track where Thaku Maa id doing everything with Bondita what Baba says, Here Baba comes with new plan.
Where further, Baba wanted Thaku Maa to light entire house with Diva and candles so that devil inside Bondita and any other negative thing fades away.
Bondita turned savior for Thakur Maa from fire
Further, Fire catches Thaku maa room where Bondita saved Thaku maa from same pot water, for which Thaku Maa wanted Bondita no to touch.
Later on Anirudh gives life lesson to Thaku Maa to stop all old customs if Bondita can touch water in tough time then she can touch Jal Devta while her periods are ongoing.
It would be interesting to see how Thaku Maa mind will get back on right track ever or not?
Stay tuned with us for more exciting updates and upcoming twists in the show.
Latest Barrister Babu Updates