Barrister Babu: Baba shameful torture to Bondita hides own misdeeds (Future Story)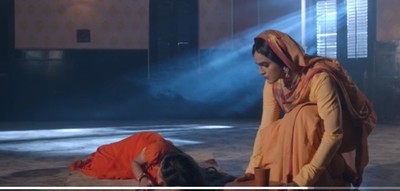 Barrister Babu: Baba shameful torture to Bondita hides own misdeeds
Sasural Simar Ka 2 is Indian tv drama which telecasted on Colors Tv, where its upcoming track of the show will bring much drama.
It was seen that Anirudh don avatar of Roopa to stay close to Bondita and giving much needed strength to her.
Where Thaku Maa captivated Bondita in dark kothri and Anirudh is much hurt with all this and trying to escape her out and Bondita is suffering all this.
Baba planned chilly torture to keep Bondita trapped
However amid all this, Thakur Maa who is under influence of superstitions called Baba where Baba is taking revenge from Bondita to teach her lesson.
Later, Anirudh and Bondita gets shocked and perplexed when Baba declared about some chilly torture so that they can keep control over Bondita.
It would be interesting to see how Anirudh will safeguard Bondita this time against Thaku Maa.
Stay tuned with us for more exciting updates and upcoming twists in the show.
Latest Barrister Babu Updates