Kumkum Bhagya: Pragya's new love affair to save Abhi (Upcoming Episode)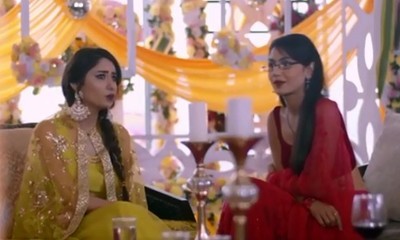 Kumkum Bhagya: Pragya's new love affair to save Abhi
Zee's top TV serial Kumkum Bhagya is all set for high-time drama and twists and turns in the storyline.
Abhi and Pragya are going through a tough time as they are unable to collect evidence against Tanu's fake molestation allegation on Abhi.
The marriage is on the head and Pragya has the last chance to save Abhi.
Just when Pragya comes across Tanu's husband Pradeep, he goes mad after Pragya and decides to approach her.
Pragya gets a golden opportunity when Pradeep promises that he can even kill Tanu for her (Pragya) love.
So here comes the twist when Pragya accepts Pradeep's love proposal.
Pragya through her master card
Pragya says yes to Pradeep's love proposal as she decides to use him against Tanu as her master card.
So how riveting and amazing the wedding twist will be when Pragya's new love affair will slip the ground under Tanu's feet,
Make sure you follow us at SerialGossip.com so you don't miss the next big twists.
Latest Kumkum Bhagya Updates