Kumkum Bhagya: Pradeep embraces Pragya with love angering Tanu (Future Story)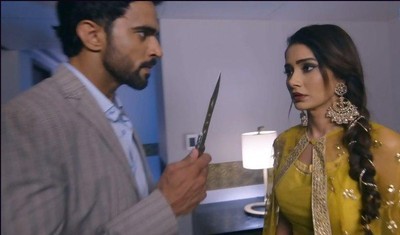 Kumkum Bhagya: Pradeep entry to jiggle and haunt Tanu twisting with Pragya
Kumkum Bhagya is popular show on Zee T which is up for some exciting twists and turns ahead where Pradeep has entered back.
Latest track showing Tanu is much joyful that she is marrying Abhi but another twist is waiting for her ahead.
At same, Tanu gets much baffled eyeing Pradeep where she assumed that Pradeep is no more,
Pradeep on other side is much furious with Tanu that she sidelined him totally and marrying Abhi, where he showers his anger over her.
Pradeep out of blues showers love for Pragya ahead
Makers of the show planned major twist ahead where Pradeep threatened Tanu with knife and confessed that he love Pragya more than she loves herself.
At same Pradeep warned Tanu that if she created any trouble then he will bring out her truth forth everyone.
It would be interesting to see what will happen next in Pragya and Tanu life.
Stay tuned with us for more exciting updates and upcoming twists in the show.
Latest Kumkum Bhagya Updates