Kumkum Bhagya: Aaliya showed mirror to Rhea disclosing bathroom twist (Upcoming Twist)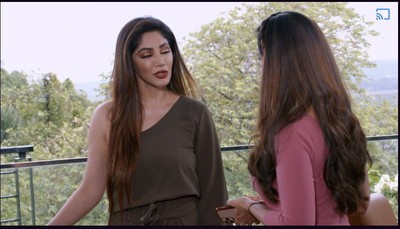 Kumkum Bhagya: Aaliya disclosed Prachi and Ranbir bathroom romance twist
Kumkum Bhagya is popular show on Zee T which is up for some exciting twists and turns ahead where Rhea caught Prachi and Ranbir in bathroom together.
Latest track showing how Aaliya overhear Prachi and Suhana talk about bathroom romance and gets hell furious.
Amid all this, Aaliya recalled her times that Purab never loved her and same cant happen with Rhea as time doesn't define anyone's love.
Aaliya's statement to Rhea about Ranbir's love drama
Shockingly, Aaliya decided to talk same to Rhea where Rhea gets shocked that she can lose Ranbir to Prachi if she ever neglected anything.
Rhea on other side gets alerted and decided to look into this matter and decided to keep Prachi away from Ranbir.
On other side, Rhea too gets baffled that Prachi is getting close to Ranbir and also wearing the dress that he like.
It would be interesting to see what will happen next in Prachi and Rhea life.
Stay tuned with us for more exciting updates and upcoming twists in the show.
Latest Kumkum Bhagya Updates