Anupama: Rakhi back in Anupama's team poor Vanraj Kavya sidelined (Upcoming Twist)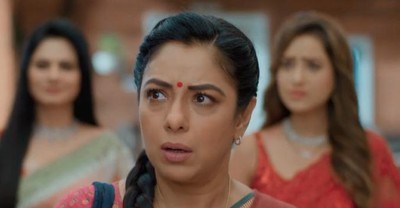 Anupama: Rakhi back in Anupama's team poor Vanraj Kavya sidelined
The upcoming episode of Star Plus popular serial Anupama will showcase an interesting twist and turn.
It was earlier seen that Rakhi joined Kavya's team as she was worried for Kinjal and her future in Shah House.
Rakhi thus used to support Kavya and taunt her too.
However, post Rakhi returns back to Ahmedabad she gets a huge surprise to know that Anupama too will be staying in Shah House.
Anupama to take good care of Kinjal
When Anupama is there Rakhi does not need to worry for Kinjal as Anupama takes care of everything.
Rakhi is happy that Baa gives much respect to Anupama and welcomes her home rather Kavya Vanraj.

It would be interesting to see what happens next on the show.

Stay tuned to serialgossip.com for more updates.
Latest Anupama Updates