Mehndi Hai Rachne Wali: Raghav turns new negative finds Sunny-Keerti affair (Upcoming Episode)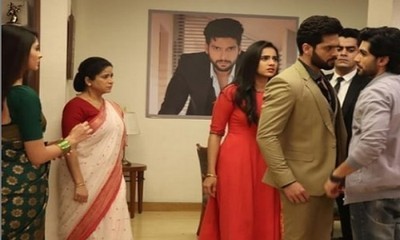 Mehndi Hai Rachne Wali: Raghav turns new negative finds Sunny-Keerti affair
Star Plus TV serial Mehndi Hai Rachne Wali is gearing up for high-intensity drama in the Rao Mansion.
Raghav and Pallavi are completely unaware of what love story is cooking in the house behind their back.
However, the secret doesn't stay hidden for long but soon Raghav finds Keerti and Sunny's love affair.
Raghav gets so furious that he aggressively grabs Sunny's collar shocking everyone.
Keerti and Sunny's struggle
Raghav and Pallavi along with Amma are quite shocked knowing Keerti loves the tattoo artist Sunny.
The family gets worried when Raghav turns new negative to hurt Sunny and beat him for crossing the line.
Will Raghav accept their love relationship or Keerti Sunny will have to struggle a lot?
To know more, make sure you don't miss the next update at SerialGossip.com
Latest Mehndi Hai Rachne Wali Updates