Shaurya Aur Anokhi: Time for Ramesh entry in Shaurya Anokhi wedding (Upcoming Episode)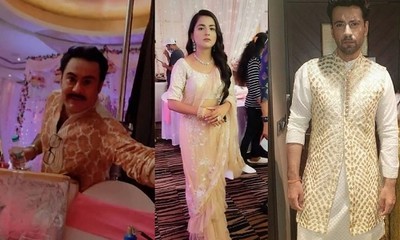 Shaurya Aur Anokhi Ki Kahani: Time for Ramesh entry to spice up Shaurya Anokhi wedding
The beautiful love story of Shaurya and Anokhi is going to spice up in the upcoming episode of Shaurya Aur Anokhi Ki Kahani TV serial of Star Plus.
Earlier seen how Anokhi refuses to be with Shaurya and breaks his heart.
Shaurya doesn't give up and instead makes a plan to make Anokhi stand up for her love without fearing the Sabherwals.
Shaurya announces his engagement with Shagun and invites Anokhi to the engagement ceremony.
Ramesh and Anokhi face-off
Anokhi comes feeling all jealous and insecure thinking Shaurya has really moved on but the twist in the tale is that the engagement is of Shaurya and Anokhi.
Ramesh Bhalla who is Anokhi's father and was always against her career is making his entry in the Engagement Ceremony.
Anokhi eloped from her wedding to pursue her career which badly pissed off Ramesh.
Now will Ramesh accept Shaurya and Anokhi's relationship or he will turn trouble in their love story?
To know more, make sure you don't miss the next update at SerialGossip.com
Latest Shaurya Aur Anokhi Ki Kahani Updates