Mehndi Hai Rachne Wali: New siyappa spices up Raghav Pallavi life (Upcoming Twist)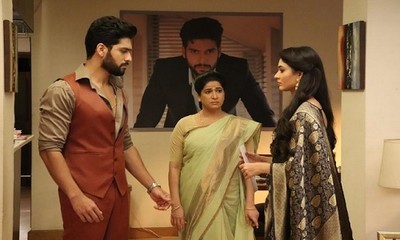 Mehndi Hai Rachne Wali: New siyappa spices up Raghav and Pallavi life
In the quirky love chemistry of Raghav and Pallavi, a lot is about to happen in their life in the upcoming episode of Mehndi Hai Rachne Wali.
Raghav and Pallavi come across another new tension in their life.
While Amma is trying to calm both of them, their sweet and cute nok-jhoks are not coming to an end.
We have also brought you the BTS from the upcoming episode and we know that you must have checked our last update to know how Pallavi turns a don to teach a good lesson to Raghav.
Raghav and Pallavi's late night argument
So Amma is enjoying their quirky fights and arguments.
While Raghav and Pallavi both are not ready to forget each other's mistake, how riveting this new twist will be and what new siyappa is spicing up their love story.
To know more, make sure you don't miss the next update at SerialGossip.com
Latest Mehndi Hai Rachne Wali Updates