Mehndi Hai Rachne Wali: Finally Pallavi asks Raghav about 10 years ago (Upcoming Episode)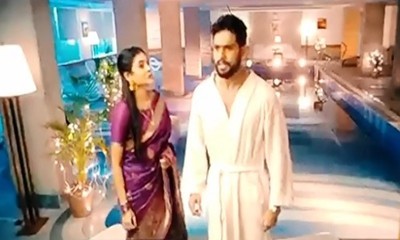 Mehndi Hai Rachne Wali: Finally Pallavi asks Raghav about 10 years ago
Star Plus most popular TV show Mehndi Hai Rachne Wali has finally brought the moment of truth between Raghav and Pallavi.
Raghav and Pallavi are turning each other's partner in pain.
Meanwhile, when Pallavi and Raghav play a game and Raghav loses to her, Pallavi puts a condition before him.
Pallavi confronts Raghav over his past and finally asks him about what happened between him and his father 10 years ago.
Raghav's major breakdown to hurt Pallavi
Poor Raghav breaks down in tears with Pallavi's question.
The time has come when Pallavi will know the truth which shattered Amma and his relationship.
Pallavi wants to know Raghav better but Raghav fears if the truth will get him away from Pallavi also.
What big revelations are coming in the show is what will change Raghav and Pallavi's equations.
To know everything, keep with us.
Latest Mehndi Hai Rachne Wali Updates