Mehndi Hai Rachne Wali: Sunny Keerti romance caught by Raghav Pallavi (Upcoming Episode)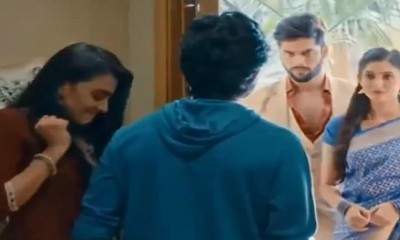 Mehndi Hai Rachne Wali: Sunny Keerti romance caught by Raghav and Pallavi
Star Plus popular show Mehndi Hai Rachne Wali's upcoming episode will see Sunny and Keerti falling into big trouble.
Raghav and Pallavi decode the mysterious man who stole the necklace from Raghav's showroom and kept in Vijay's bag.
When the duos come to meet Sunny to get the sketch of the man, unfortunately, Sunny is with Keerti.
Sunny and Keerti both get shocked and scared while Raghav and Pallavi both rush into Sunny's house.
Raghav to find the truth
While Pallavi gets busy elaborating the sketch of the man to Sunny, Raghav senses Keerti's presence.
Sunny and Keerti are in a love relationship but Sunny doesn't match the high standard of the Raghav Rao family.
Will Sunny and Keerti manage to keep their secret or Raghav will catch their romance?
Stay tuned with us for more updates and the latest news.
Latest Mehndi Hai Rachne Wali Updates