Mehndi Hai Rachne Wali: Raghav turns caring hubby to aid Pallavi (Upcoming Episode)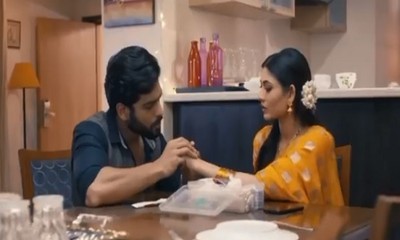 Mehndi Hai Rachne Wali: Raghav turns caring hubby to aid Pallavi
The upcoming episode of Star Plus TV serial Mehndi Hai Rachne Wali will see a romantic moment of Raghav and Pallavi.
So, Pallavi's efforts reconcile Raghav and Keerti's brother and sisterly relation.
However when Pallavi gets her finger slit, Raghav recklessly rushes to aid her wound.
Raghav turns caring hubby to aid Pallavi's wound as he not only bandages her wound but also blows air to her wound.
Pallavi's new mission for Raghav
Raghav and Pallavi's increasing proximity is strengthening their marital relationship.
However, a big storm is on the way and Pallavi is the one to solve the new problem in Raghav's life.
So, who is their new enemy and what are his ill motives, to know everything, stay tuned to entertainment news website Serialgossip.com for more updates and latest news of top TV shows.
Latest Mehndi Hai Rachne Wali Updates