Mehndi Hai Rachne Wali: Pallavi becomes Raghav's late-night partner (Upcoming Episode)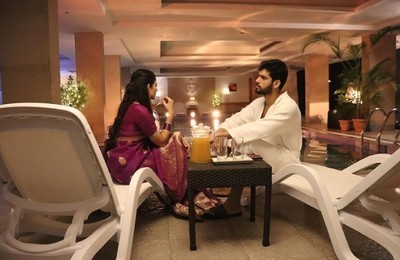 Mehndi Hai Rachne Wali: Pallavi becomes Raghav's late-night partner
Star Plus popular show Mehndi Hai Rachne Wali is all set for Raghav and Pallavi's romantic night.
So, Raghav and Pallavi's increasing proximity is bringing them on their way to love realization.
Meanwhile, when in the nighttime, Raghav takes bath in the pool Pallavi comes to accompany him.
Raghav mesmerizes Pallavi with his dashing looks in the pool.
The story gets interestingly riveting when Pallavi and Raghav sit together to have some serious conversation.
Pallavi to unite Raghav and Keerti
Raghav and Keerti are currently at loggerheads and Pallavi wants their broken relation to unite.
Where the late-night conversation makes Raghav and Pallavi's bond stronger, it would be promising to watch how Pallavi will bring his and Keerti's brother sisterly relation will come back on track.
To know more, make sure you don't miss the next update at SerialGossip.com
Latest Mehndi Hai Rachne Wali Updates