Kyun Utthe Dil Chhod Aaye: Amrit beats Randhir badly turned Veer savior at last (Future Story)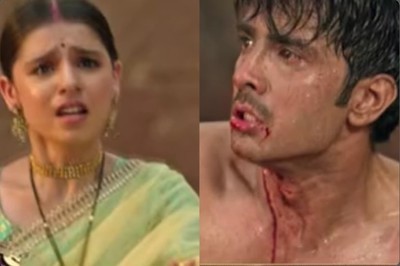 Kyun Utthe Dil Chhod Aaye: Amrit punch up Randhir to save Veer from fight deal
Kyun Utthe Dil Chhod Aaye is Indian tv drama which telecasted on Sony Tv, where its upcoming track of the show will bring much drama and suspense in the show.
Ongoing track is showing how Veer gets hell furious and started fight with Randhir where duo deadly fight turned so ugly.
Randhir started beating Veer badly where Amrit entered there and fumes with anger that how Randhir can do this.
Veer again portraits Randhir as bad one forth Amrit
This all is planned and plotted by Veer where Veer smartly did well and gets beaten by Randhir, showed himself bechara forth Amrit.
Amrit gets shocked that how Randhir can harm Veer where Amrit too started beating Randhir for this.
It would be interesting to see what will be next in Veer and Amrit life.
Stay tuned with us for more exciting updates and upcoming twists in the show.
Latest Kyun Utthe Dil Chhod Aaye Updates